BREMEN-BRE > PRISTINA-PRN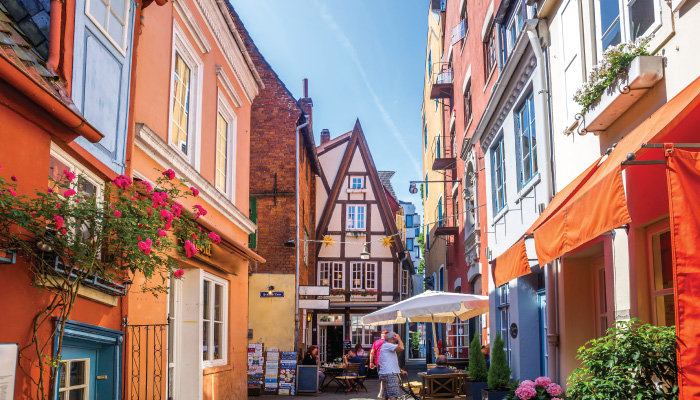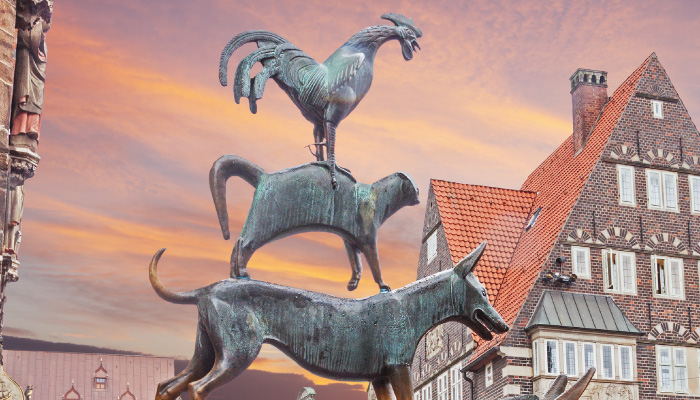 Bremen. The city from "The Brothers Grimm" fairy tale.
Bremen is well known through the Brothers Grimm's fairy tale "Town Musicians of Bremen" (Die Bremer Stadtmusikanten), and there is a statue dedicated to it in front of the city hall.
Bremen is situated on Germany's lower Weser River. Not only is this vibrant port the capital city of the Land of Bremen, it's also one of the largest seaports and centers of seaborne trade in the country. Key events in the city's cultural calendar include the Freimarkt, the country's largest funfair and one that has taken place here almost continuously since 1036. Another of Bremen's must-visit districts is the Schlachte. This pleasant Old Town pedestrian zone follows the River Weser's east bank and can trace its history all the way back to the 13th century. One of Bremen's newest attractions, Universum Bremen is also one of its most interesting architecturally. Bremen is known for producing wonderful food and drink and the array of restaurants, bars, cafés and local producers means there's no shortage of places to enjoy the finer things in life. Kale and pinkel, labskaus and knipp are only some of the Bremen specialties

Reiseburo Prishtina offers direct flights from Bremen to Prishtina.
For tickets from Bremen to Prishtina you have the opportunity to book online flights directly on our website www.flyrbp.com.
You have the opportunity for online booking Bremen - Prishtina / Kosovo here in our form to book your Flight. Once your Direct Bremen - Pristina Flight Ticket is booked, you will receive a confirmation email.
For any info and Offers with cheap prices for direct online flights to Kosovo you can contact our Call Center at the phone numbers on the contact page.
Departure
Bremen BRE Airport
Telefoni:
+49 421 55950
E-mail:
contact@airport-bremen.de

Address:

Flughafenallee 20
28199 Bremen
Gjermani