DUSSELDORF - DUS > PRISHTINA - PRN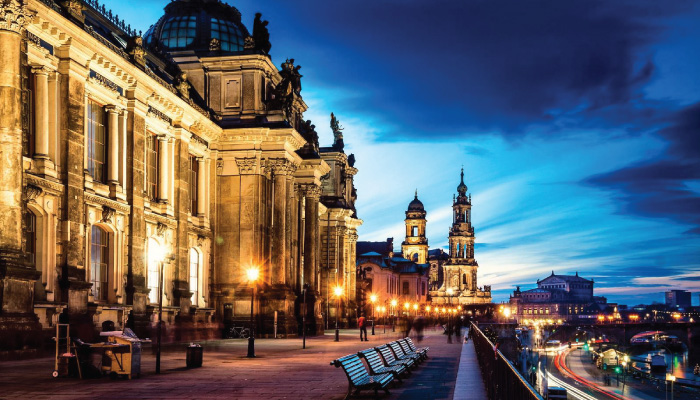 Düsseldorf. Fashion Capital of Germany.
Dusseldorf is certainly the fashion capital of Germany and one of the most important fashion destinations in Europe. The world's first fashion fair was held in Dusseldorf back in 1949, and today the city hosts several fashion fairs every year.
This confident, well-to-do city is more than deserving of attention, with a cobbled riverside Altstadt (Old Town) that is home to some 250 bars and beer taverns. Düsseldorf is at its most colourful during the annual carnival in February and attracts crowds of out-of-towners. Pay a visit to the strikingly charming Schlossturm (palace tower), a medieval masterpiece; the Renaissance-style Protestant church, Neanderkirche; and contemporary icons such as Neuer Zollhof by starchitect Frank Gehry – all standing side by side. As for art lovers, the Kunstsammlung gallery complex exhibits 20th- and 21st-century artworks by such celebrated artists as Picasso, Pollock and Kandinsky.
In summer, tourists can enjoy the city's many outdoor swimming pools and water-sports facilities. The best time to visit is in summer – expect open-air cinemas and parties lasting till sunrise.

Reiseburo Prishtina offers direct flights from Dusseldorf to Prishtina.
For tickets from Dusseldorf to Prishtina you have the opportunity to book online flights directly on our website www.flyrbp.com.
You have the opportunity for online booking Dusseldorf - Prishtina / Kosovo here in our form to book your Flight. Once your Direct Dusseldorf - Pristina Flight Ticket is booked, you will receive a confirmation email.
For any info and Offers with cheap prices for direct online flights to Kosovo you can contact our Call Center at the phone numbers on the contact page
.
Departure:
Dusseldorf DUS Airport
Telephone
+49 211 4210
E-mail:
customerservice@dus.com

Address:

Flughafenstraße 105
4047 Düsseldorf
Gjermani