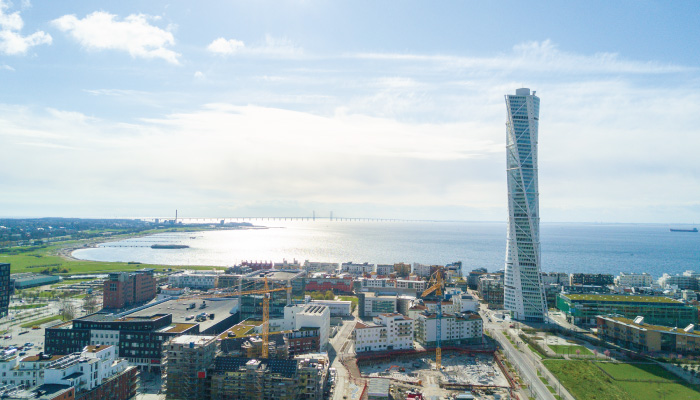 Malmo. The "beautiful city parks" city.
Despite its northern location, the climate is mild compared to other locations at similar latitudes.Owing to its northern latitude, daylight lasts 17 hours 31 minutes in midsummer, but only around seven hours in midwinter.
Eating out in the metropolis of Malmö is relaxed and self-indulgent. The focus is on well prepared and local-produce based comfort food with a European influence, more than on advanced fine dining.The Malmö Saluhall food market is easy to get to from the central station and is a great place to try local artisan food such as ´fika' or cinnamon bun.
If you want to see Europe's Longest Rail Bridge, The magnificent Oresund Bridge (Øresundsbroen) lies a 15-minute drive from Malmö city center.
Skåne's capital is all about culture, exciting cuisine, innovative architecture and a vibrant social scene. Spoil yourself in an area that has more pubs and restaurants per capita than anywhere else in Sweden

Reiseburo Prishtina offers direct flights from Malmo to Prishtina.
For tickets from Malmo to Prishtina you have the opportunity to book online flights directly on our website www.flyrbp.com.
You have the opportunity for online booking Malmo - Prishtina / Kosovo here in our form to book your Flight. Once your Direct Flight Ticket Malmo - Pristina is booked, you will receive a confirmation email.
For any info and Offers with cheap prices for direct online flights to Kosovo you can contact our Call Center at the phone numbers on the contact page.
.
Departure
Malmö Sturup MMX
Telefoni:
+46 10 109 45 00
E-mail:
info@malmoairport.se

Address

Aeroporti Malmo
Kutia 14
Terminali 1
23371 Malmo-Sturup