ZÜRICH-ZRH > PRISTINA-PRN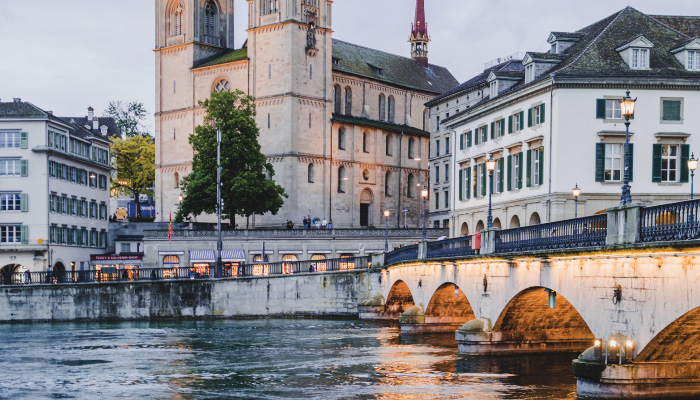 Zürich is Switzerland's centre of economic life and education
Zurich is an upmarket banking city and the financial capital of Switzerland. It, therefore, comes as no surprise that it's often labelled as the most expensive city in the world. Zurich is famous for luxurious lifestyles, high-end shopping, and fancy chocolates. However, despite its expense and extravagance, it is also ranked as one of the best cities to live in the world.
Boasting highly urbanized districts that sit amidst historical and cultural areas, Zurich is also the biggest city in Switzerland. It is also extremely well situated. It sits right on Lake Zurich and has the waters of the River Limmat running right through it. And all this at the foot of the Swiss Alps. There are also lots of tours and activities in the city as well as day trips to nearby places giving you plenty to do during your visit.

Reiseburo Prishtina offers direct flights from Zurich to Prishtina.
For tickets from Zurich to Prishtina you have the opportunity to book online flights directly on our website www.flyrbp.com.
You have the opportunity for online booking Zurich - Pristina / Kosovo here in our form to book your Flight. Once your Direct Zurich-Pristina Flight Ticket is booked, you will receive a confirmation email.
For any info and Offers with cheap prices for direct online flights to Kosovo you can contact our Call Center at the phone numbers on the contact page.
Nisja:
Aeroporti Malmö Sturup MMX
Telefoni:
+46 10 109 45 00
E-mail:
info@malmoairport.se

Adresa:

Aeroporti Malmo
Kutia 14
Terminali 1
23371 Malmo-Sturup